The Abyss God is one of the idols in the Battle of the Gods mini-game. It is the idol for Ep 1: Nowhere To Go, Nothin' To Do and was first seen in Ep 39: Challenge of the Gods.
Description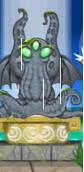 The Abyss God looks like a sea monster with tentacles, three green eyes, and wings.
Drop Pygmy in water. (Into the abyss.)
Flick Pygmy behind island. (Show the Pygmy new horizons.)
Level Up tasks
Drop Pygmy in water
Flick Pygmy behind island
Battle Info
When the idol is invoked, the Pygmy gains a green glow around his hands.
On the attack, the Pygmy shoots a green beam from his hands.
If the enemy Pygmy is defeated by this attack, a waterspout comes out of the ground, lifts him up, then drops him into the hole.
Level Stats
| Level | Health | Damage | % Defense Against Attacks For 3 Turns |
| --- | --- | --- | --- |
| 1 | 40 | 25 | 40% |
| 2 | 80 | 50 | 42% |
| 3 | 120 | 75 | 44% |
| 4 | 160 | 100 | 46% |
| 5 | 200 | 125 | 48% |
| 6 | 240 | 150 | 50% |
| 7 | 280 | 175 | 52% |
| 8 | 320 | 200 | 54% |
| 9 | 360 | 225 | 56% |
| 10 | 400 | 250 | 58% |
| 11 | 440 | 275 | 60% |
| 12 | 480 | 300 | 62% |
| 13 | 520 | 325 | 64% |
| 14 | 560 | 350 | 66% |
| 15 | 600 | 375 | 68% |
| 16 | 640 | 400 | 70% |
| 17 | 680 | 425 | 72% |
| 18 | 720 | 450 | 74% |
| 19 | 760 | 475 | 76% |
| 20 | 800 | 500 | 78% |
Trivia