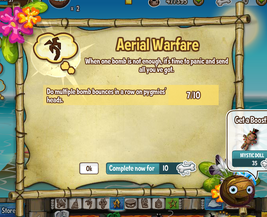 Aerial Warfare
is a
quest
in
Pocket God Facebook
.
Message
The message of this quest is:
When one bomb is not enough, it's time to panic and send all you've got
Objective
The goal of this quest is to do multiple bounces in a row of the Bomb Fruit on Pygmies' heads 10 times.
Victory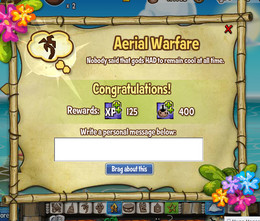 When the quest is completed, the player receives 125
Experience
and 400
Sacrifice Coins
. The victory message is:
Nobody said that gods HAD to remain cool at all time.
Trivia
Just like Painful Discovery (which is the same quest but with coconuts instead of bomb fruit), this quest does not involve any sacrificing of the pygmies.