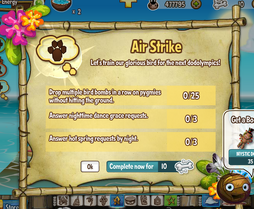 Air Strike
is a
quest
in
Pocket God Facebook
Message
The message of the mission is:
Let's train our glorious bird for the next dodolympics!
Objective
The objective of the quest is to drop 25 multiple bird bombs in a row on Pygmies without missing and having one hit the ground, answer 3 nighttime grace requests, and answer 3 requests for the Hot Spring during the night.
Victory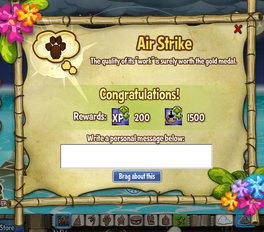 The victory message is:
The quality of its "work" is surely worth the gold medal.
The player will be awarded 200 Experience and 1500 Sacrifice Coins when this quest is completed.