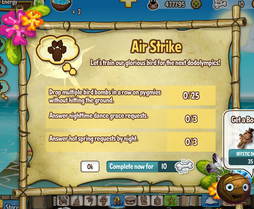 Air Strike
is a
quest
in
Pocket God Facebook
Message
The message of the mission is:
Let's train our glorious bird for the next dodolympics!
Objective
The objective of the quest is to drop 25 multiple bird bombs in a row on Pygmies without missing and having one hit the ground, answer 3 nighttime grace requests, and answer 3 requests for the Hot Spring during the night.
Victory
The victory message is:
The quality of its "work" is surely worth the gold medal.
The player will be awarded 200 Experience and 1500 Sacrifice Coins when this quest is completed.
Ad blocker interference detected!
Wikia is a free-to-use site that makes money from advertising. We have a modified experience for viewers using ad blockers

Wikia is not accessible if you've made further modifications. Remove the custom ad blocker rule(s) and the page will load as expected.