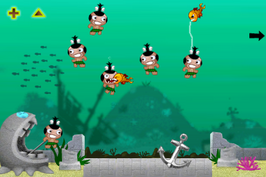 The mini-game Bait Master, also known as Piranhas Served, was introduced in Ep 23: Bait Master. It is a crossover with Imangi Studio's Harbor Master. The mini-game is in The Underwater Area. To play the mini-game you must lift up an anchor and drop it; the resounding boom throughout the water summons blood thirsty piranhas.
Objective
The objective of Bait Master is to guide all of the hungry piranhas to their food; the pygmies. To do this you draw a line from the piranha to the pygmy. After the piranha has eaten, the player must draw another line either to or towards the edge of the area, sending the piranha away. The more piranhas "served" the faster they come on screen. But be careful, if a piranha comes into contact with another piranha, they fight and the game is ended. The aim of the game is to feed the piranhas as may pygmies as you can. Unlike in Harbor Master, the "destinations" (Pygmies in Bait Master, ports in Harbor Master) can be moved freely, either reducing or increasing the level of difficulty depending on the player's skill.
Updates
Ad blocker interference detected!
Wikia is a free-to-use site that makes money from advertising. We have a modified experience for viewers using ad blockers

Wikia is not accessible if you've made further modifications. Remove the custom ad blocker rule(s) and the page will load as expected.