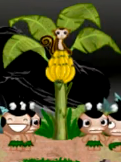 The
Banana Tree
is a tree on
Ape Mountain
introduced in
Ep 34: Monkey See, Monkey Chew
.
Overview
Physical Description
The Tree has a green, bamboo-like trunk and four large, green leaves on top. In the middle is a batch of yellow Bananas.
Functions
The Banana Tree holds Bananas. If a banana is taken off, a Monkey is summoned if enabled, and bananas can be fed to Monkeys. Monkeys can also climb on the tree.
Notes
When the Banana Tree icon is toggled on, the Ape Idol appears as well.
Trivia
With the Palm Tree, it is the only tree that holds fruit.
It is the only tree that is an interaction.
It is also the only tree that can be toggled on/off.
Oddly, the pygmies does not peel bananas when eating them.
Ad blocker interference detected!
Wikia is a free-to-use site that makes money from advertising. We have a modified experience for viewers using ad blockers

Wikia is not accessible if you've made further modifications. Remove the custom ad blocker rule(s) and the page will load as expected.