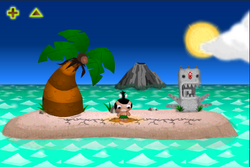 Cracks
are a global interaction added in
Ep 32: Crack is Wack
.
Overview
If you drag your finger across any island in the Pocket God World, cracks will open and expand. If a crack is made under a Pygmy, the earth will open up and the Pygmy will fall into the fiery depths of the Lava Tube and begin a mini-game. Here, the player runs from a wave of sizzling lava while jumping from platform to platform and avoiding many dangerous obstacles. Both the cracks themselves and the ability to fall into the Lava Tube can be toggled on and off. Since they are not exclusive to any island, the ability to toggle cracks is found under the global interaction menu.
Trivia
The cracks are the first seismic interaction introduced since the earthquakes.
This page is too small. Edit it a few times to make it bigger!
Ad blocker interference detected!
Wikia is a free-to-use site that makes money from advertising. We have a modified experience for viewers using ad blockers

Wikia is not accessible if you've made further modifications. Remove the custom ad blocker rule(s) and the page will load as expected.