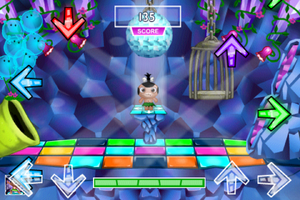 Dance Dance Execution is a mini-game released in Ep 45: Dance Dance Execution
Overview
How to Start
First you need to go to the Dance Room in the Apocalypse Island. Which you can acess by going into the locust room and dropping the pygmy into the tube that used to have spikes covering it. Then you must put a pygmy in the dance platform, this will make appear four arrows in the bottom of the screen, this means the mini-game have begun.
How to Play
The objective of the game is to score points by dancing. Some colored arrows are moving down across the screen and you must touch the them in the moment that they reach the transparent arrows in the bottom. If you touch them in the correct moment, the pygmy will keep dancing and you will earn points depending the moment you touch the arrow.
There is a bar that shows you the times you have missed an arrow. When you have touched many arrows in the incorrect moment the dance will finish and the disco ball will squash the pygmy and then some lasers will evaporate him.
However, If you miss entirely 4 times, the dance will finish also.
Somehow, if you continue to tap the arrows correctly, the health bar will slowly refill.
Miss - 0 pts
OK - 5 pts
Good! - 8 pts
Perfect!! - 12 pts
Trivia
Most people think this game is a combination of Tap Tap Revenge and Dance Dance Revolution.
Ad blocker interference detected!
Wikia is a free-to-use site that makes money from advertising. We have a modified experience for viewers using ad blockers

Wikia is not accessible if you've made further modifications. Remove the custom ad blocker rule(s) and the page will load as expected.