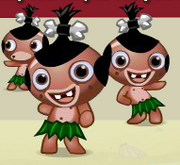 The Elf Dance was a limited time god power that is able to be bought for 24 Pocket Change in Pocket God on Facebook.
Background
It was released with the Christmas Tree as part of the Christmas event. In the shop, the elf dance is represented by a red drum, just like its sister god power Dance Dance, except Dance Dance is represented by a brown drum.
Trivia
The Elf Dance is now on sale on facebook version, and will be never be gone again. (Can be bought for 10 Pocket Change)
This page is too small. Edit it a few times to make it bigger!
Ad blocker interference detected!
Wikia is a free-to-use site that makes money from advertising. We have a modified experience for viewers using ad blockers

Wikia is not accessible if you've made further modifications. Remove the custom ad blocker rule(s) and the page will load as expected.