"March of the Fire Ants" is the 13th episode of Pocket God and came out on April 8th, 2009. This update was released along with Ep 12: Something's Fishy.
New Features
Fire Ants
Main Article: Fire Ant
This update added an Anthill to the Sand Island, then called Oog Island. By tapping the nest three times in a row, you could aggravate the Fire Ants inside, who then begin to swarm around the nest. Dragging a line from them to a Pygmy will cause them to swarm around the Pygmy and devour its flesh, leaving only the bones.
Magnifying Glass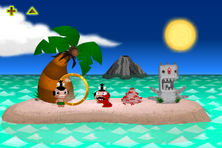 Main Article: Magnifying Glass
Another interaction introduced in this episode was the Magnifying Glass. When it is daytime, you can pick up and use to burn the Pygmies or ants in a line.
OpenFeint
Main Article OpenFeint
This update also added OpenFeint, an online chatting/leaderboard system that was buggy at first. OpenFeint was to be improved over the course of future updates.
Trivia
Ironically, this episode, released along with the previous one, was the first to air in April, even if it has the word "March" in it's name.