Surf's Up is the 18th episode of Pocket God and it was released on June 1st, 2009. Like Ep 15: A New Home, it added a new area to a game.
New Features
Main Articles: The Underwater Area, Tsunami Wave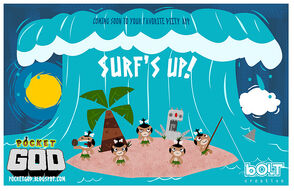 This episode made it so players can make a
Tsunami Wave
by pushing the water side to side revealing
The Underwater Area
with a statue that skewers
Pygmies
. If players push the water down, they will return to the previous island.
God Statistics
The God stat screen was fixed and allows players to change their god type and it also shows their achievements.