You Always Hurt The One You Lava is the 3rd episode of Pocket God and was released on January 20th, 2009.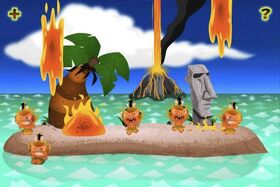 New Features
Volcano
Main article: Volcano
This update added a volcano in the island background which was able to be toggled on and off, a feature that was omitted in later episodes. If the player managed to flick 3 pygmies into it, it would erupt and spill lava all over the Pygmies, who would run around on fire and eventually jump into the water to get rid of the flames but drown themselves in the process if you don't pick them out quick enough.
Pocket God Sales
Because of this episode, Pocket God sales and ratings went much higher than the previous two episodes, but it still wasn't as intricate and fun as it is today. That would come in later episodes.
Trivia
This episode was the first to add new functionality to the game.
It was the first update to change the icon.