Shake That App! is the 4th episode of Pocket God and was released on January 29th, 2009. It takes place on Sand Island.
New Features
Two new features were added to this episode.
Gravity
This episode added the ability for the player to tip the iPhone/iPod Touch and cause the Pygmies to slip and fall according to which way the device is tilted.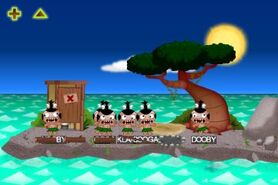 Earthquake
In addition to the gravity feature, this episode added the ability to shake the iPhone/iPod Touch and cause an Earthquake. The earthquake feature, which can be toggled on and off, makes a large rumbling sound and the earth shakes violently, and the Pygmies desperately trying to maintain their balance. Interestingly enough, when an earthquake happens, no structures on the islands (outhouse, palm tree, igloo, etc.) fall down.
Icon
When this update was actually released, the icon of the game was not changed and remained the icon from the previous episode, (You Always Hurt the One You Lava) of the Pygmies being pelted with lava from the volcano. However, in Ep 39: Challenge of the Gods, a new icon was introduced to represent the challenge of this episode (the god who challenges the player from this episode is the Gravity God) even though it wasn't actually ever the icon of the game.