Experience
is a feature exclusive to
Pocket God Facebook
. It marks the amount of experience the player has in playing the game.
Overview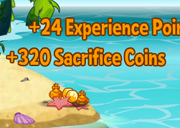 Experience is awarded when a
Pygmy
is sacrificed, when a quest or challenge is completed, and when it is claimed from wall posts. Once the player has hoarded a certain amount of experience, he or she will progress to a higher level.
Idols
Depending on which idol is active, the amount of Experience awarded may be tampered. The Idol of Wisdom, the All-Knowing Idol, and the Almighty Idol all award double the amount of Experience gained per sacrifice while the Bloodthirsty Idol awards no Experience.
Rival Gods
When a player defeats a Rival God, s/he will gain a preset amount of Experience depending on the intensity of their participation. Rival God Idols double Experience, albeit only when certain conditions are met.
Experience Per Sacrifice
The following table exhibits the amount of experience awarded for each sacrifice when the Basic Idol is used.
Trivia
Experience is the only form of currency that cannot be lost.