Attack of the Killer Pumpkin is the tenth episode of Pocket God Facebook. It was released on October 24, 2011.
New Features
The main new feature was the additon of a new limited edition plant power, the Magic Pumpkin. Also, a new global challenge was issued for Halloween- Jack-O'-Pygmy. The goal is to sacrifice Pygmies using the Magic Pumpkin. Lastly, Candy Treats can be given to you from your friends. They cast 2
Bones
to gift and restores 8
Devotion
.
Magic Pumpkin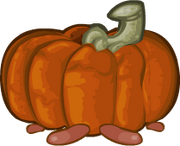 Main article: Magic Pumpkin
The magic pumpkin is a new, limited edition Plant, growing on the Pumpkin Plant. It can sacrifice Pygmies in two different ways. You can get them to eat it, which turns them into a Magic Pumpkin. You can also let it grow and use it to crush Pygmies.
Candy Treats
Main Article: Candy Treats
Candy Treats can be sent to your friends at a cost of 2 Bones. Each Candy Treat gives 8 Devotion.
Other Changes
An addition to the Hlloween-themed features, this episode also released some new quests. Also, the Burnt Dodo Bird was changed into a roast chicken. However, it still has the same function.
Global Challenge
Main article: Jack-O'-Pygmy
As this episode came near Halloween, a global challenge was issued- Jack-O'-Pygmy. The goal is to sacrifice 250000 Pygmies using the Magic Pumpkin for a total reward of 1250000 Experience and 12500000 Sacrifice Coins.
November 17th Mini-update- Quest System 2.0
On November 17, a new quest system was added. There are now four types of quests: Grace Request quests, Storyline quests, Friend sacrifice quests, and Pygmy sacrifice quests. Each path is completely independent from each other. In addition, specific Grace Requests for quests was made much more common, and several quests were added. Bones could now be used to complete quests.
Examples of the new Quest System
Trivia
It is the first Halloween-themed update of the game.
Ad blocker interference detected!
Wikia is a free-to-use site that makes money from advertising. We have a modified experience for viewers using ad blockers

Wikia is not accessible if you've made further modifications. Remove the custom ad blocker rule(s) and the page will load as expected.