Say Your Prayers is the eleventh episode of Pocket God Facebook. It was released on November 24, 2011 and adds Thanksgiving-themed items to the game
New Features
The main new feature was the additon of the new animal power, the Chubby Turkey. Also, a new global challenge was issued for Thanksgiving, The Harvester. The goal is to sacrifice Pygmies by using the Chubby Turkey.
Chubby Turkey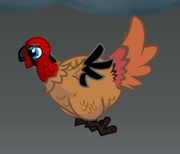 Main article: Chubby Turkey
The Chubby Turkey is a new animal, introduced with the Thanksgiving theme of this episode. It is a bird and acts much the same as the Dodo Bird. When you buy this power, a turkey will fly by periodically. Strike the turkey with lightning and it will fall to the island, whereupon a hungry Pygmy will eat it. When this happens, revenge is swift, and two new turkeys fly to the island, and peck their Pygmy tormentors to death. The turkeys then travel to the opposite side of the island, pecking whatever unfortunate Pygmy is in their path. When they reach the end of the island, they will fly away, and the cycle begins all over again.
Wishbone
Main article: Wishbone
Wishbones can be sent to your friends at the cost of 1 Bone. It restores 8 Devotion upon usage.
Other Changes

This episode introduced the ability to go over maximum
Devotion
by buying
Puny Soul Potions
and
Reaper Potions
. Answering graces also contributes to the devotion overflow. However,
gift potions
and the
Armageddon Potion
do not increase devotion.
Also released with this update were 5 new Customization items. They are the Amerindian Feathers, War Bonnet, Iroquois Hair, Amerindian Shirt, and Amerindian Skirt.
Global Challenge: "The Harvester"
Main article: The Harvester
As this episode was released on Thanksgiving, a global challenge was released: The Harvester. The goal is to sacrifice 550,000 Pygmies in the following five days with the Chubby Turkey. As of November 29, 2011, there were over 400,000 sacrifices. The loot to share is 2250000 Experience and 22500000 Sacrifice Coins.
Trivia
This is the first Thanksgiving-themed update to the game.
Ad blocker interference detected!
Wikia is a free-to-use site that makes money from advertising. We have a modified experience for viewers using ad blockers

Wikia is not accessible if you've made further modifications. Remove the custom ad blocker rule(s) and the page will load as expected.