Visit Your Friends! is the eleventh and a half update of Pocket God Facebook and was released on the 10th of December 2011. It a half update since the episode does change the game as significantly as a full update would.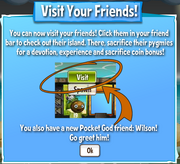 New Features
This update introduced the feature of visiting you friends' islands, where you can spawn Pygmies and sacrifice them with whatever items they happen to have equipped. You can see their pygmies and what they are wearing. Wilson is added as a default friends for all players (he was later renamed Wilbur.) The only other feature to be included was the Glow Fish, which is an alternate version of the Fishing Rod.
Visiting Friends
When visiting friends islands, you have 5 devotion points. These are used to sacrifice your friend's pygmies. When you have used all of the devotion points, you get a Visit Bonus (Experience, Sacrifice Coins and Free Devotion).
Glow Fish
Main Article: Glow Fish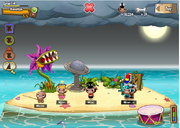 The Glowfish was introduced in this episode. It serves the same function as the fish, coming with its own fishing rod. When a pygmy eats it, it starts glowing. It is possible to have a giant glowing pygmy, when the pygmy is both fed a mushroom and a glowfish. It costs 8 Bones.
Quests
10 new quests are released with the update, mostly linked to the island visit.
Trivia
This is the first 'half' update.
When this update started, you could visit Wilson's island. Later on in the game, his name changed from Wilson to Wilbur.