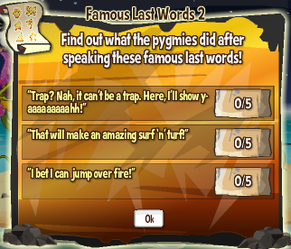 Famous Last Words 2
is a quest in
Pocket God Facebook
.
Message
The message of this mission is:
Find out what the pygmies did after speaking these famous last words!
Objective
The objective of this mission is to sacrifice 15 Pygmies. If completed, the player will receive 750 Experience and 2,000 Sacrifice Coins.

Spoiler Warning!
This article contains spoilers for future updates or comics.
There are three different mystery sacrifices. The first sacrifice is the
Coconut Tree
trap. The second sacrifice is
waterkiing with the Shark
. The final sacrifice is by burning from a blown
Torch
.
Ad blocker interference detected!
Wikia is a free-to-use site that makes money from advertising. We have a modified experience for viewers using ad blockers

Wikia is not accessible if you've made further modifications. Remove the custom ad blocker rule(s) and the page will load as expected.