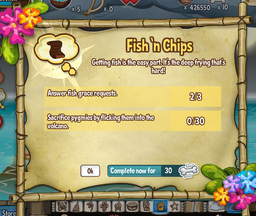 Fish 'n Chips is a quest in Pocket God Facebook.
Message
The message of the mission is:
Getting fish is the easy part. It's the deep frying that's hard!
Objective
In the first version of the quest, the objective of the mission is to answer three fish grace requests. However, as of of a mini-update following Facebook Ep. 10: Attack of the Killer Pumpkin,, another objective of sacrificing 30 Pygmies by flicking them into the volcano was added. When completed you will receive 1000 experience and 1000 Sacrifice Coins. Also, as this mini-update, the player has the option of completing the quest instantly for 30 Bones.

This page is too small. Edit it a few times to make it bigger!