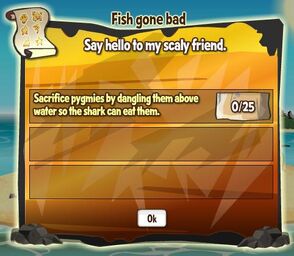 Fish gone bad
is a quest in
Pocket God Facebook
.
Message
The message of the mission is:
Say hello to my scaly friend.
Objective
The objective of the mission is to sacrifice 25 Pygmies by dangling them above the water so the Shark will snap them up. If completed, the player will receive 125 Experience and 2,000 Sacrifice Coins.

This page is too small. Edit it a few times to make it bigger!