Friendly Groping
is a
Quest
in
Pocket God Facebook
.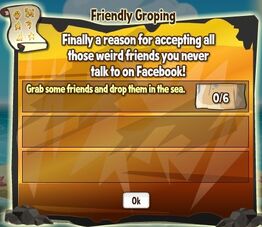 Message
The message of this mission is:
Finally a reason for accepting all those weird friends you never talk to on Facebook!
Objective
The objective of this quest is to grab six of the player's friends and drop them into the sea. If completed, the player will get 40 Experience and 400 Sacrifice Coins.
Trivia
It is one of the first quests involving sacrificing friends
This page is too small. Edit it a few times to make it bigger!
Ad blocker interference detected!
Wikia is a free-to-use site that makes money from advertising. We have a modified experience for viewers using ad blockers

Wikia is not accessible if you've made further modifications. Remove the custom ad blocker rule(s) and the page will load as expected.