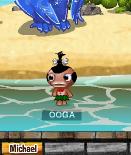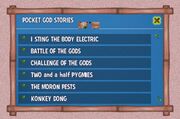 Glitches are system errors and faults that occur in Pocket God, Pocket God: Journey To Uranus, and in Pocket God Facebook. Even in Pocket God: Ooga Jump. They are errors in the game that were not intended by the programmers, Bolt Creative, and include incorrectly displayed graphics, collision detection errors, game freezes/crashes, sound issues, and other problems. This category is a following list of some of the glitches that occur in each of the four Pocket God-related games.
Trivia
During the beta testing of the game, glitches are usually located and then told to the programmers, Dave and Allan.
There are still unknown glitches with unknown causes (see the photograph at the right side).
Perhaps the most infamous glitch in Pocket God was when Ep. 43 was released and the Battle of the Gods mini-game was slowed down from 10 to 20 seconds after selecting an idol and pressing the Go! button. Thus the progress of leveling up idols was brought to a grinding halt until Ep. 44 was released.
Gliches can occur in all Pocket God games.
Pages in category "Glitches"