You might be thinking of The Yoga Master from Pocket God Facebook.
The Gravity God is one of the idols in the Battle of the Gods mini-game. It is the idol for Ep 4: Shake That App!, and was first seen in Ep 39: Challenge of the Gods.
Description
The Gravity God is a statue that looks like a Pygmy with pupilless eyes, a rib bone in his hair, and is wearing robes with a necklace with a shiny red gem pendant. He is balancing upside-down on his hair.
Make Pygmy unsteady. (Tip it!)
Make Pygmy lose balance. (Bound for the floor.)
Make Pygmy slide. (Hungry for a "slider?")
Make Pygmy slide while sleeping. (Have a slide under the stars)
Make Pygmy slide off island and drown. (Make a splash!)
Generate earthquake. (Shake your groove thing.)
Turn upside down, Pygmy fall into sky. (Down is the new up.)
Make Pygmy hang upside-down. (Hang in there!)
Turn upside-down and tap Pygmy to lose grip and fall into sky. (Poke 'em when they're up!)
Turn upside down, Pygmies lose grip from earthquake. (Shake it off!)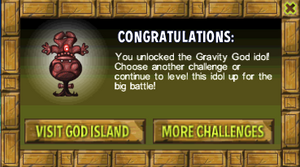 Level Up Tasks
Make Pygmy slide off island and drown.
Generate earthquake.
Battle Info
When the idol is invoked, the Pygmy gains a white glow around his hands.
On the attack, the Pygmy projects a white shield around himself. If attacked by a Fast opponent he projects white beams at the opponent after defending.
If the enemy Pygmy is defeated by this attack, a whirlwind comes out of a hole in the ground, carries the enemy Pygmy around the screen for a second, then drops down the hole with the Pygmy.
A victory in the battle gains your four idols 1000 points toward Level Up.
Level Stats
Level
Health
Damage
Defense against all Damage
for 2 turns
1
40
25
30%
2
80
50
32%
3
120
75
34%
4
160
100
36%
5
200
125
38%
6
240
150
40%
7
280
175
42%
8
320
200
44%
9
360
225
46%
10
400
250
48%
11
440
275
50%
12
480
300
52%
13
520
325
54%
14
560
350
56%
15
600
375
58%
16
640
400
60%
17
680
425
62%
18
720
450
64%
19
760
475
66%
20
800
500
68%
Trivia
Ad blocker interference detected!
Wikia is a free-to-use site that makes money from advertising. We have a modified experience for viewers using ad blockers

Wikia is not accessible if you've made further modifications. Remove the custom ad blocker rule(s) and the page will load as expected.