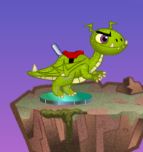 The Green Dragon is a species of Dragon on the planet of Uranus. Pygmies are able to ride on it.
Overview
Appearance
The Green Dragon has scaly green skin, brown eyes, a spike on its tail and wears a red saddle on its back that a Pygmy can ride on. It also carries a lance, but it doesn't do anything.
History
The Green Dragon is the last of its kind, a peaceful species of dragon, and is the only hope at stopping the evil Red Dragons.
Mini-Game
When you put a Pygmy on the Green Dragon it initiates a mini-game called Dragons on Uranus. Here, as a Pygmy you press the screen to flag the dragon's wings and attack Red Dragons from above. Also, flying into a Ghost Pygmy will give you extra life, but don't fly into the Uranian Gas or the Uranian Gas Worms.
Trivia
It is one of the three species of Dragon in "Journey to Uranus"
There are no dragons in the Pocket God World, but technically Uranus is not part of the Pocket God World.
The Green Dragon could be parody of a skylander from the Skylanders series of games.

This page is too small. Edit it a few times to make it bigger!