Living Things, Dying Things
is a quest in
Pocket God Facebook
.
Messages
The message of the mission is:
Let's show these pygmies why a Pocket God put animals and plants upon the Earth.
Objective
The objective of the mission is to sacrifice 100 or 150
Pygmies
, depending on whether this quest is attacked before or after the intermission. Pygmies must be sacrificed by using the
Coconut Tree
trap, using green acid (
Venus Flytrap
), dragged to the Venus Flytrap's mouth, eating too many
Magic Mushrooms
, eating the
Bomb Cactus
, jumping into the water due to a Bomb Cactus explosion, killed by shrapnel, drowning because of a
shark
slap, given the shark hat, eaten by the Shark, devoured by the
Fire Ants
, carried away by the
Dodo
, or dropped and drowned by the Dodo. If completed before the intermission, the player will receive 100
Experience
and 1,000
Sacrifice Coins
.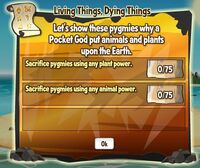 If completed after the intermission, the player will receive 450 Experience and 4,000 Sacrifice Coins.