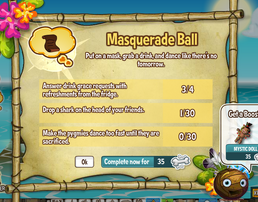 Masquerade Ball
is a quest in
Pocket God Facebook
.
Message
The message of this mission is:
Put on a mask, grab a drink, and dance like there's no tomorrow.
Objective
The objective of this mission is to answer four Cocodrink Grace Requests, sacrifice thirty Pygmies with shark hats, and sacrifice twenty Pygmies by forcing them to dance until they die of exhaustion.
Victory
If completed, the player will receive 600 Experience and 5,000 Sacrifice Coins.
Trivia
In its first 6 hours of release, this quest was glitched. The title was '450878675464448', not 'Masquerade Ball'. The message was '450878675464449'. It has been fixed.
Ad blocker interference detected!
Wikia is a free-to-use site that makes money from advertising. We have a modified experience for viewers using ad blockers

Wikia is not accessible if you've made further modifications. Remove the custom ad blocker rule(s) and the page will load as expected.