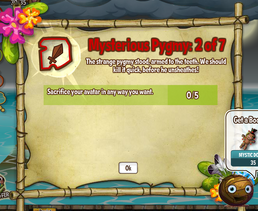 Mysterious Pygmy: 2 of 7 is a quest in Pocket God Facebook and the second of the "Mysterious Pygmy" line of quests.
Objective
The message of this quest is:
The strange pygmy stood, armed to the teeth. We should kill it quick, before he unsheathes!
The goal of this quest is to sacrifice your avatar 5 times in any possible way.
Victory
If completed, the player will be rewarded 15
Experience
and 150
Sacrifice Coins
. The victory message is:
The mysterious pygmy kept on returning, ever unharmed. He started to tell his story...
This page is too small. Edit it a few times to make it bigger!
Ad blocker interference detected!
Wikia is a free-to-use site that makes money from advertising. We have a modified experience for viewers using ad blockers

Wikia is not accessible if you've made further modifications. Remove the custom ad blocker rule(s) and the page will load as expected.