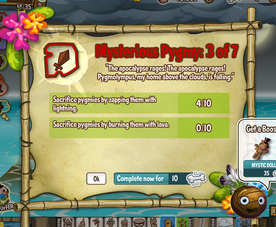 Mysterious Pygmy: 3 of 7 is a quest in Pocket God Facebook. It is the third installment of the "Mysterious Pygmy" saga of quests for the player.
Message
The message of this quest is:
"The apocalypse rages! The apocalypse rages! Pygmolympus, my home above the clouds, is falling."
Objective
The objective of this quest is to sacrifice 10 Pygmies by electrocuting them with lightning and sacrifice another 10 Pygmies by burning them with lava.
Victory
The victory message is:
"I wonder what happened to all the other avatars in Pygmolympus?"
When this quest is completed, the player will be awarded 50 Experience and 250 Sacrifice Coins.

This page is too small. Edit it a few times to make it bigger!