This page is too small. Edit it a few times to make it bigger!
Mysterious Pygmy: 7 of 7 is a quest in Pocket God Facebook. It is the last of the "Mysterious Pygmy" saga of quests.
Message
The message of this quest is:
It's easier to win against weaker avatar, but you gain more Strength fighting stronger ones.
Objective
The objective of this quest is to sacrifice the player's friends' avatars with the player's avatar 5 times, and to sacrifice the player's friends' avatars on that friend's island using the player's own avatar. The player must also do this 5 times.
Victory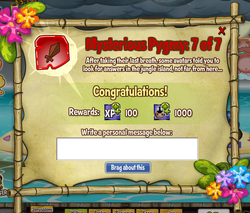 The victory message is:
After taking their last breath, some avatars told you to look for answers in the jungle island, not far from here...
When this quest is completed, the player will be awarded 100 Experience and 1,000 Sacrifice Coins.
Ad blocker interference detected!
Wikia is a free-to-use site that makes money from advertising. We have a modified experience for viewers using ad blockers

Wikia is not accessible if you've made further modifications. Remove the custom ad blocker rule(s) and the page will load as expected.