The Name Tag is one of the idols in the Battle of the Gods mini-game. It is the idol for Ep 14: Say My Name! and first appeared in Ep 39: Challenge of the Gods
Description
The Name Tag idol is a statue that looks like a giant name tag with the name "Ooga" written on it. The name tag is on a canvas on a stand, as if it were painted. There is some green slime or algae on the stand.

Open the tribe screen. (Get the Tribe 411.)
Change the name of a Pygmy. (A change of identity.)
Change god type. (Choose your profession.)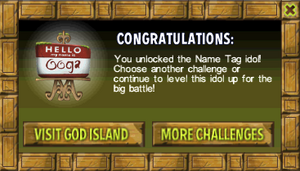 Level Up Tasks
Battle Info
When the idol is invoked, the Pygmy gains a flower shield and leaf sword.
On the attack, the Pygmy braces himself against the enemy Pygmy's attack. If attacked by a fast opponent he then slashes the enemy with his sword.
If the enemy Pygmy is defeated by this attack, a vine with flowers comes out of the ground and drags the Pygmy in.
A victory in the battle gains your four idols 2900 points toward Level Up.
Level Stats
The Name Tag's particular Power does not increase as it levels up.
| Level | Health | Damage |
| --- | --- | --- |
| 1 | 40 | 35 |
| 2 | 80 | 70 |
| 3 | 120 | 105 |
| 4 | 160 | 140 |
| 5 | 200 | 175 |
| 6 | 240 | 210 |
| 7 | 280 | 245 |
| 8 | 320 | 280 |
| 9 | 360 | 315 |
| 10 | 400 | 350 |
| 11 | 440 | 385 |
| 12 | 480 | 420 |
| 13 | 520 | 455 |
| 14 | 560 | 490 |
| 15 | 600 | 525 |
| 16 | 640 | 560 |
| 17 | 680 | 595 |
| 18 | 720 | 630 |
| 19 | 760 | 665 |
| 20 | 800 | 700 |
Trivia
To be added