You might be thinking of Moonface from Pocket God Facebook.
The Owl God is one of the idols in the Battle of the Gods mini-game, representing the god of night and the moon. It is the idol for Ep 6: And on the 7th Day, Rest!, and was first seen in Ep 39: Challenge of the Gods.
Description
The Owl God is a statue of a female blue owl. Seemingly made of blue resin or sapphire. And her left wing is holding what appears to be a creasent moon.
Change from day to night. (Come to the dark side.)
Cause sun to set or rise. (Color the sky.)
Dazzle pygmies with sunset. (Whooooaaaaa.)
Make Pygmies sleep. (Sweet dreams are made of this.)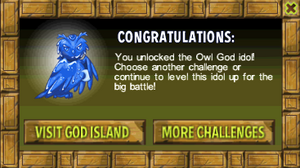 Level Up Tasks
Vampire Pygmy knocks Pygmies off island.
Burn Vampire Pygmy with sunlight.
Battle Info
When the idol is invoked, the Pygmy gains a white cloud shield and a white sword.
On the attack, the Pygmy dashes forward, jumps in the air, and slashes downward with his sword.
If the enemy Pygmy is defeated by this attack, a whirlwind comes out of a hole in the ground, carries the enemy Pygmy around the screen for a second, then drops down the hole with the Pygmy.
A victory in the battle gains your four idols 1500 points toward Level Up.
Level Stats
| Level | Health | Damage | Heal for entire battle |
| --- | --- | --- | --- |
| 1 | 20 | 20 | 4.0 |
| 2 | 40 | 40 | 8.0 |
| 3 | 60 | 60 | 12.0 |
| 4 | 80 | 80 | 16.0 |
| 5 | 100 | 100 | 20.0 |
| 6 | 120 | 120 | 24.0 |
| 7 | 140 | 140 | 28.0 |
| 8 | 160 | 160 | 32.0 |
| 9 | 180 | 180 | 36.0 |
| 10 | 200 | 200 | 40.0 |
| 11 | 220 | 220 | 44.0 |
| 12 | 240 | 240 | 48.0 |
| 13 | 260 | 260 | 52.0 |
| 14 | 280 | 280 | 56.0 |
| 15 | 300 | 300 | 60.0 |
| 16 | 320 | 320 | 64.0 |
| 17 | 340 | 340 | 68.0 |
| 18 | 360 | 360 | 72.0 |
| 19 | 380 | 380 | 76.0 |
| 20 | 400 | 400 | 80.0 |
Trivia