Not to be confused with the Pocket God Update Song, this song is about... The Pygmies! It was created July 12, 2012 by internet song legend Parry Gripp. It was a commemoration to Pocket God, which stopped updating 12 12, 2012. It shows a collage of Pygmy moments, and most things in the game.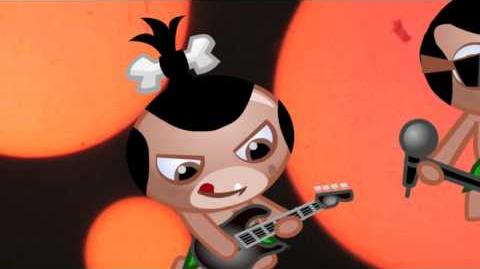 Lyrics:
Pygmies, they live in paradise, They're pygmies, Yeah you think it would be nice, But they're always falling into the volcano.
Pygmies, they eat coconuts on an island, But they gotta watch their butts, 'Cause there's lightning and zombies, and earthquakes and monsters.
Out of nowhere the gods flick them away, But the pygmies return to face another day, yeah.
When they're not crushed by a meteor or a T-Rex, With one minute's peace there's a reflex, To feel safe, But they never are.
Dark clouds in the sky, Sharks in the sea, Won't take away their will to be...
Pygmies! (x13)
Trivia:
Parry Gripp is one of the most popular musicians on Youtube.
Ad blocker interference detected!
Wikia is a free-to-use site that makes money from advertising. We have a modified experience for viewers using ad blockers

Wikia is not accessible if you've made further modifications. Remove the custom ad blocker rule(s) and the page will load as expected.