The
Puny Soul Potion
is a boost in
Pocket God Facebook
that restores 1
Energy
when consumed.
Overview
The player may purchase Puny Soul Potions from the store for 1 Bone apiece.
History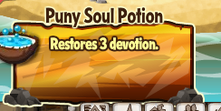 The Puny Soul Potion was available since the
beginning of Pocket God Facebook
. Those potions would restore 3 Energy when consumed and cost 350
Sacrifice Coins
, but following a small update the potion now offers 1 Energy.
Strategy
The Puny Soul Potion is best used to complete the final bits necessary to complete an objective, like quests, rival gods, and level ups.
Rival Gods
In Rival God challenges, Puny Soul Potions are useful for racking up sacrifices more quickly than with conventional methods.
Gift Potions

Puny Soul Potions can be catapulted to friends at no charge to promote friendship. Each friend may receive one potion per sender per day. There is no limit to how many potions can be stored.
Trivia
Ad blocker interference detected!
Wikia is a free-to-use site that makes money from advertising. We have a modified experience for viewers using ad blockers

Wikia is not accessible if you've made further modifications. Remove the custom ad blocker rule(s) and the page will load as expected.