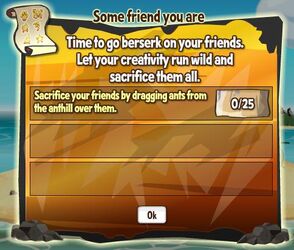 Some friend you are
is a quest in
Pocket God Facebook
.
Message
The messgae of the mission is:
Time to go berserk in your friends. Let your creativity run wild and sacrifice them all.
Objective
The objective of the mission is to sacrifice 25 friends using anything, including devices, god powers, flicking, plants, and the volcano, even though the quest states that Fire Ants are the only viable option. If completed, the player will receive 350 Experience and 3,500 Sacrifice Coins.
Ad blocker interference detected!
Wikia is a free-to-use site that makes money from advertising. We have a modified experience for viewers using ad blockers

Wikia is not accessible if you've made further modifications. Remove the custom ad blocker rule(s) and the page will load as expected.