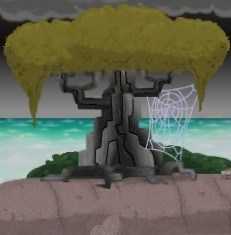 The
Spider Web Tree
is a tree on
Graveyard Island
and was introduced in
Ep 26: Dead Pygmy Walking
.
Overview
Physical Description
This tree is a large, black, spooky tree with twisted, gnarled black roots and two branches protruding from the main trunk. From these two, two more protrude and support a large, hanging, sickly-green expanse of leaves that looks like moss. From the right branch, a spider web hangs. There is a dark green bush behind it.
Spider Web
Main Article: Barking Spider
The Spider Web Tree's most prominent feature, if a Pygmy is put in the spider web and it is tapped, a small spider will come and wrap him in a cocoon. If the cocoon is tapped, it will explode into millions of baby spiders, summoning the Barking Spider. If the spear is toggled on, this will begin the Graveyard Island boss fight.
Trivia