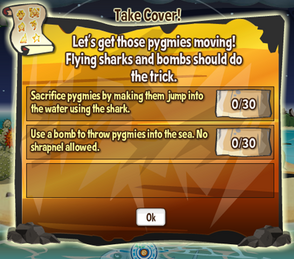 Take Cover! is a quest on Pocket God Facebook.
Message
The message of the mission is:
Let's get those Pygmies moving! Flying sharks and bombs should do the trick.
Objective
The objective of the quest is to slap 30 Pygmies with the shark and blast 30 pygmies into the water with the Bomb Fruit.
Victory
If completed, this quest gives 750 experience and 4000 Sacrifice Points.