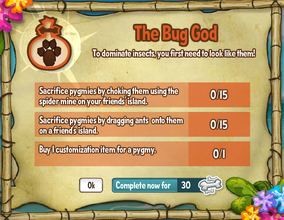 The Bug God is a quest in Pocket God Facebook
Message
The message of the mission is:
To Domain insects, you first need to look like them!
Objetive
The objetive of the mission is to sacrifice fifteen pygmies with the spider mine, sacrifice fifteen pygmies with Fire Ants and buy one customization item for a pygmy. The sacrifices must be on a friend's island.
Ad blocker interference detected!
Wikia is a free-to-use site that makes money from advertising. We have a modified experience for viewers using ad blockers

Wikia is not accessible if you've made further modifications. Remove the custom ad blocker rule(s) and the page will load as expected.