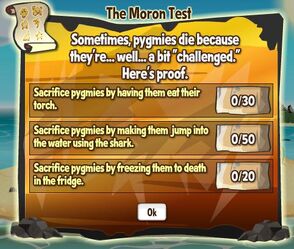 The Moron Test
is a quest in
Pocket God Facebook
Message
The message of the mission is:
Sometimes, pygmies die because they're... well... a bit "challenged". Here's proof.
Objective
The objective of the mission is to sacrifice 30 Pygmies by having them eat their Torch, sacrifice 50 Pygmies by making them jump into the water using the Shark, and sacrifice 20 Pygmies by freezing them to death in the Fridge.