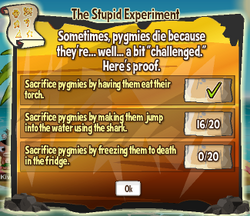 The Stupid Experiment is a quest in Pocket God Facebook.
Message
The message of the mission is:
Sometimes, pygmies die because they're... well... a bit "challenged". Here's proof.
Objective
The objective of the quest is to kill a total of 60 Pygmies. 20 must be killed by eating their own torch at night, 20 from being shark slapped, and another 20 from freezing into a cube via a Fridge. If completed, the player will receive 200 Experience and 2,500 Sacrifice Coins.
Trivia
This quest is a revamp of the quest "The Moron Test".
Ad blocker interference detected!
Wikia is a free-to-use site that makes money from advertising. We have a modified experience for viewers using ad blockers

Wikia is not accessible if you've made further modifications. Remove the custom ad blocker rule(s) and the page will load as expected.