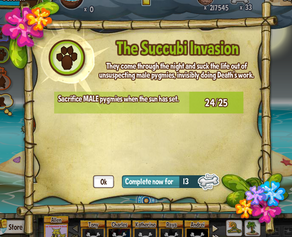 The Succubi Invasion is a quest on Pocket God Facebook.
Message
The message of the quest is:
They come through the night and suck the life out of unsuspecting Pygmies, invisibly doing Death's work.
Objective
The objective of the quest is to sacrifice 25 male Pygmies when the Sun is down (the Moon is out). It can be completed for 13 Bones. It is a storyline quest.
Completion
If completed, the player will get 350
Experience
and 1500
Sacrifice Coins
. The completion message is:
Your succubi love to gorge themselves on the tasty male pygmies you sacrifice.
Ad blocker interference detected!
Wikia is a free-to-use site that makes money from advertising. We have a modified experience for viewers using ad blockers

Wikia is not accessible if you've made further modifications. Remove the custom ad blocker rule(s) and the page will load as expected.