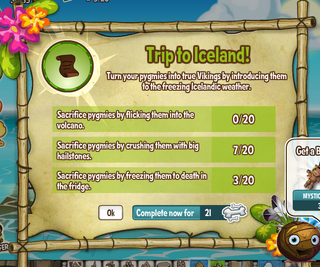 Trip to Iceland!
is a
quest
in
Pocket God Facebook
.
Message
The message of this mission is:
Turn your pygmies into true Vikings by introducing them to the freezing Icelandic weather.
Objective
The objective of this mission is to sacrifice 1 Pygmy by flicking it into the Volcano, 20 Pygmies with Hailstones, and 20 Pygmies using the Cocodrink Fridge or St. Pat Fridge.
Victory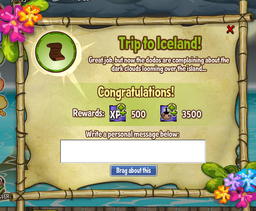 The victory message is:
Great job, but now the dodos are complaining about the dark clouds looming over the island...
If completed, the player will receive 500 Experience and 3,500 Sacrifice Coins.