The Tyrannosaurus Rex Skin Pack was the first Customization Skin Pack created in Pocket God. It was released in Episode 27: Good Will Haunting and allows the player to change the Tyrannosaurus Rex's color, what it wears on its head, and tattoos on its body.
Overview
It costs 99 cents to purchase. The changes you can make to the dino are listed below: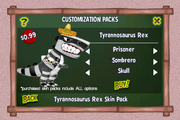 Colour Schemes:
Green Body (Default)
Metal
Dragon (second picture)
Pygmy (the dino has the same color scheme as one of the pygmies)
Prisoner (first picture)
Purple (third picture)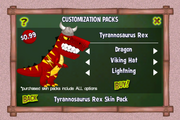 Hats:
No Hat (Default)
Santa Hat (Added in 'Ep 29: The Pyg Chill') (last picture)
Top Hat
Headphones
Pygmy-Style
Viking Hat (second picture)
Sombrero (first picture)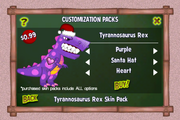 Tattoos:
No Tattoo (Default)
Skull (first picture)
Heart (third picture)
Tribal
Lightning (second picture)
Racing Number
Trivia
Ad blocker interference detected!
Wikia is a free-to-use site that makes money from advertising. We have a modified experience for viewers using ad blockers

Wikia is not accessible if you've made further modifications. Remove the custom ad blocker rule(s) and the page will load as expected.