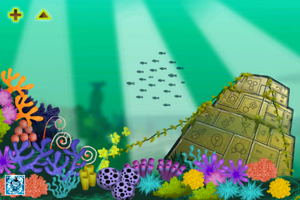 The Underwater Pyramid is an interaction, exclusive to the Coral Reef, introduced in Ep 41: I Sting The Body Electric, along with the new location. As of Ep 42: Bone Soup, you can now activate some symbols in patterns, in order to create special powers.
Overview
The Underwater Pyramid is a Mayan-like pyramid, divided in three sections, made by a golden material. It is located in the background of the Coral Reef. It features various different symbols on it surface, some of which can be activated to cast special powers. It is also covered by sea weeds and some underwater vines protrude from it.
Interactions
In the Underwater Pyramid's debut episode, it served only as an element to enrich the Coral Reef's background. Instead, as of episode 42, some of the the small symbols covering its surface were changed into bigger hieroglyphics. Those symbols can be lighted in certain patterns to activate special abilities.
Here are the different patterns and their effects:
Trivia
The Underwater Pyramid is so far in the background, that even the school of fish swims over it.
It is the second of three temple-like structures introduced in the game, and made interactive; but it's the only one to directly affect the Pygmies. The other two are the Apocalypse Temple and the Temple of the Gods.
It is also the only temple like structure in wich the Pygmies cannot enter.
When you activate a pattern, it will glow to a certain colour depending on the pattern you activated.