You might be thinking of The Volcano God from Pocket God Facebook.
The Volcano God is one of the idols in the Battle of the Gods mini-game. It is the idol for Ep 3: You Always Hurt the One You Lava, and was first seen in Ep 39: Challenge of the Gods.
Description
The Volcano God is a statue that looks like an erupting volcano with an angry face, red eyes, and is baring its teeth.

Flick Pygmy into volcano. (Once in the mouth.)
Make volcano overflow with lava. (Two before the spew.)
Make volcano erupt. (Three times a charm.)
Burn Pygmy with lava. (You're on fire now!)
Level Up Tasks
Flick Pygmy into volcano.
Burn Pygmy with lava.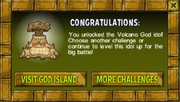 Battle Info
When the idol is invoked, the Pygmy gains a red glow around his hands.
On the attack, the Pygmy shoots a red beam from his hands.
If the enemy Pygmy is defeated by this attack, a hole opens under him. Dark hands grab the Pygmy and pull him in.
A victory in the battle gains your four idols 1000 points toward Level Up.
Level Stats
| Level | Health | Damage | Extra Fire Damage For 3 Turns |
| --- | --- | --- | --- |
| 1 | 20 | 20 | 13.0 |
| 2 | 40 | 40 | 26.0 |
| 3 | 60 | 60 | 39.0 |
| 4 | 80 | 80 | 52.0 |
| 5 | 100 | 100 | 65.0 |
| 6 | 120 | 120 | 78.0 |
| 7 | 140 | 140 | 91.0 |
| 8 | 160 | 160 | 104.0 |
| 9 | 180 | 180 | 117.0 |
| 10 | 200 | 200 | 130.0 |
| 11 | 220 | 220 | 143.0 |
| 12 | 240 | 240 | 156.0 |
| 13 | 260 | 260 | 169.0 |
| 14 | 280 | 280 | 182.0 |
| 15 | 300 | 300 | 195.0 |
| 16 | 320 | 320 | 200.0 |
| 17 | 340 | 340 | 221.0 |
| 18 | 360 | 360 | 234.0 |
| 19 | 380 | 380 | 247.0 |
| 20 | 400 | 400 | 260.0 |
Trivia